Boxing Basics for Taekwondo Practitioners
I've always considered boxing and in particular the conditioning from boxing as excellent training for all round fitness and self defense. It has made a transition from  the hard core boxing gyms into the modern day fitness gymnasiums and white collar boxing clubs.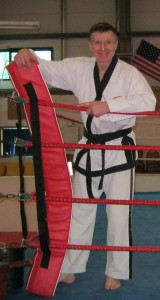 Over the years I have been captivated by the various characters in boxing and have read the autobiographies of Barry McGuigan and others alike. When I started, I lacked confidence, and found the conditioning very hard. But I have studied the art of boxing for many years and it has formed the backbone of the Kaizendo syllabus, suitable for adults, particularly those over 40.
Boxing drills are excellent for getting into shape, building a strong character, as well as being a good stand up self protection skill.  The commitment and level of training of a professional boxer is probably mind boggling to many of us.
I also feel these skills are excellent to develop the overall Taekwondo practitioner as often the emphasis is predominantly on kicking, and when you spar, being good with your hands can give you the edge.
One Response to Boxing Basics for Taekwondo Practitioners