Parents Information
A Special Message For Parents and Guardians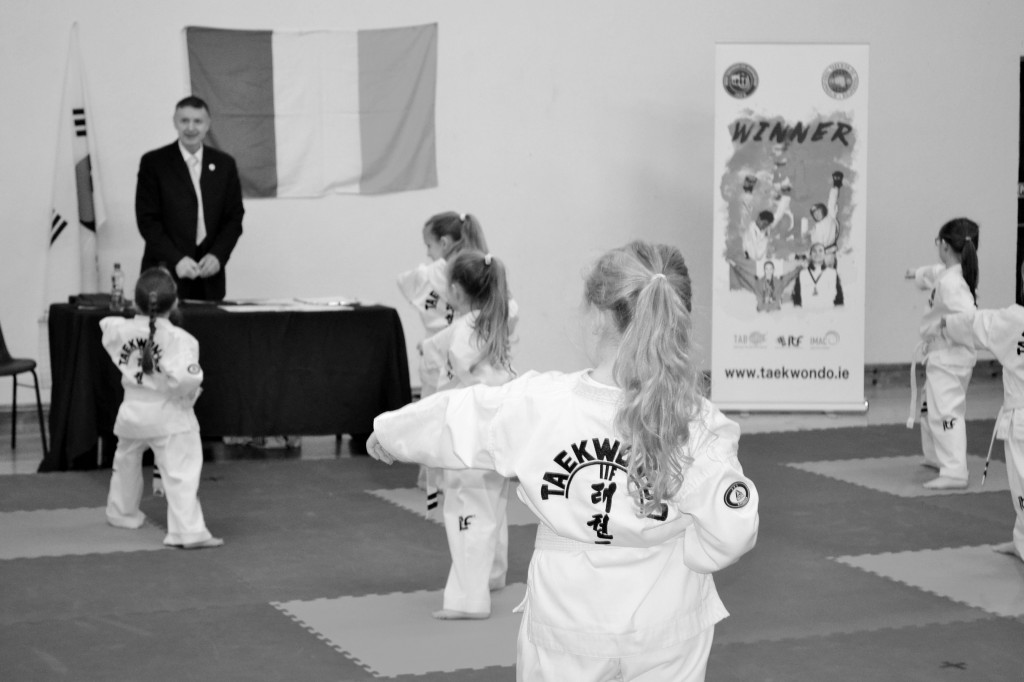 Taekwondo at our school  is a lot more than just an activity of kicking and punching. We specialise in bridging the gap between you the parent at home and their teacher at school. Every child is treated as an individual and we care about their progress physically and emotionally. By using the framework of Taekwondo philosophy which encompasses the tenets of Taekwondo; Courtesy, Integrity, Perseverance, Self-Control & Indomitable Spirit we try to instil important life skills into the children while practising physical exercise.
We live in a complicated world and as parents ourselves we know parenting is not easy. There is no quick fix to the difficulties our children may experience such as loss of confidence or self esteem caused in particular by bullying, or if they struggle with anger management or behaviour because they are experiencing emotional challenges at home or school. Children respond very well to the structured physical exercise offered by Taekwondo, which in turn boosts their confidence, concentration and discipline, particularly when they reach the goal of a new belt.
How You can Help us to Help Your Child
Taekwon-Do is a dynamic physical activity that frequently involves fast movement, kicking and punching equipment. The classes can be quite busy so it is important that the students adhere to the rules to avoid harm to themselves and others. Our rules and regulations can be found in the Code of Conduct section. We ask you to read them with your child so that they understand what is expected from them in terms of behaviour.
If your child has special needs or has social challenges they will be treated the same as all other children but we ask the parent/guardian to remain in the training hall as they may need extra help or assistance during the class on occasions.
Please understand, for the safety of all the students, we are not in the position to give any child constant one to one personal tuition and attention.
If your child misses classes, we ask if you could try and make up the classes by attending another class on our Timetable. Like this your child will feel less anxious about falling behind, all of which helps with confidence building. Please check with us first to see which class is most suitable. If you need to take a long break from classes and wish to remain a member, please let us know so that we don't offer your space to another child on the waiting list. Like this we avoid over crowding of classes.
Regular consistent training is far more effective than sporadic, intense training. A child will only be prepared for a grading if they train regularly. Some children will take longer than others to achieve a certain level of skill, particularly if they are younger. Not all children will be put forward to a grading at the same time. This is not a failure and we will continue to reward their efforts in class until they have mastered enough skill to achieve the grading requirements.
How to Choose a Taekwondo School or Club You can Trust
We belong to an organisation called the ITA (Irish Taekwondo Association). All ITA instructors go through a comprehensive training process in order to ensure best practise and excellence. All our instructors must have the following criteria:
ITF Black Belt Certificate
Garda Vetting Certificate
Code of Ethics Certificate
Valid First Aid Certificate
Level 1 Coaching Certificate in ITF Taekwondo (recognised by the Irish Sports Council through the Irish Martial Arts Commission).
The standard of Taekwondo in the ITA is very high and the certificate of black belt issued is an Internationally recognised qualification. For those who wish to go down the competitive route, the ITA offers some of the best Coaches who have trained youngsters to World Class level and have produced many National and International Champions.   We are fortunate to have many high ranking Black Belts who bring a wealth of experience and knowledge and who are committed to developing the best possible standard of Taekwondo for all our students.
The ITA are part of  an international organisation called the ITF (International Taekwondo Federation). To find out more about the ITF visit www.tkd-itf.org.
When you choose a Taekwon-Do school, be sure to look for the logos below which indicate that it is of a trustworthy source and recognised by the Irish Sports Council.