Taekwondo Journey
Frank Murphy's Taekwondo Journey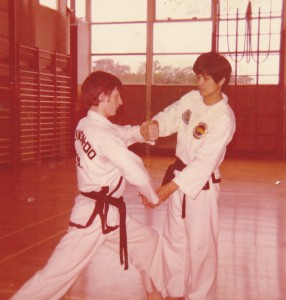 My study of the martial arts began after an assault by a gang of thugs in 1974. The beating hurt more psychologically than physically, and for a long time afterwards, revenge was my prime motivation to take up martial arts training. The Bruce Lee craze was in full swing and I began training in Boxing and Taekwondo in June of 1974. It really did not matter to me that the style was called Taekwondo, I could just as easily have walked into a Judo or a Karate club.
The training and conditioning, and the person who delivered it, always were, and to this day remain, more important to me than the style practiced. 
So to build my confidence, I began Boxing but found the physical conditioning hard. A  Taekwondo club started up in Cork every Saturday in what was known as the Arcadia ballroom on the Lower Glanmire Road and the training was about three hours long. I first entered Taekwondo sparring competitions not for trophies or medals, but mainly as a way to build my confidence. My goal was just to enter, have one sparring match, or two if I was lucky and be on my way. I was a nervous wreck every time my name was called to compete, but the more I entered the easier this ritual became.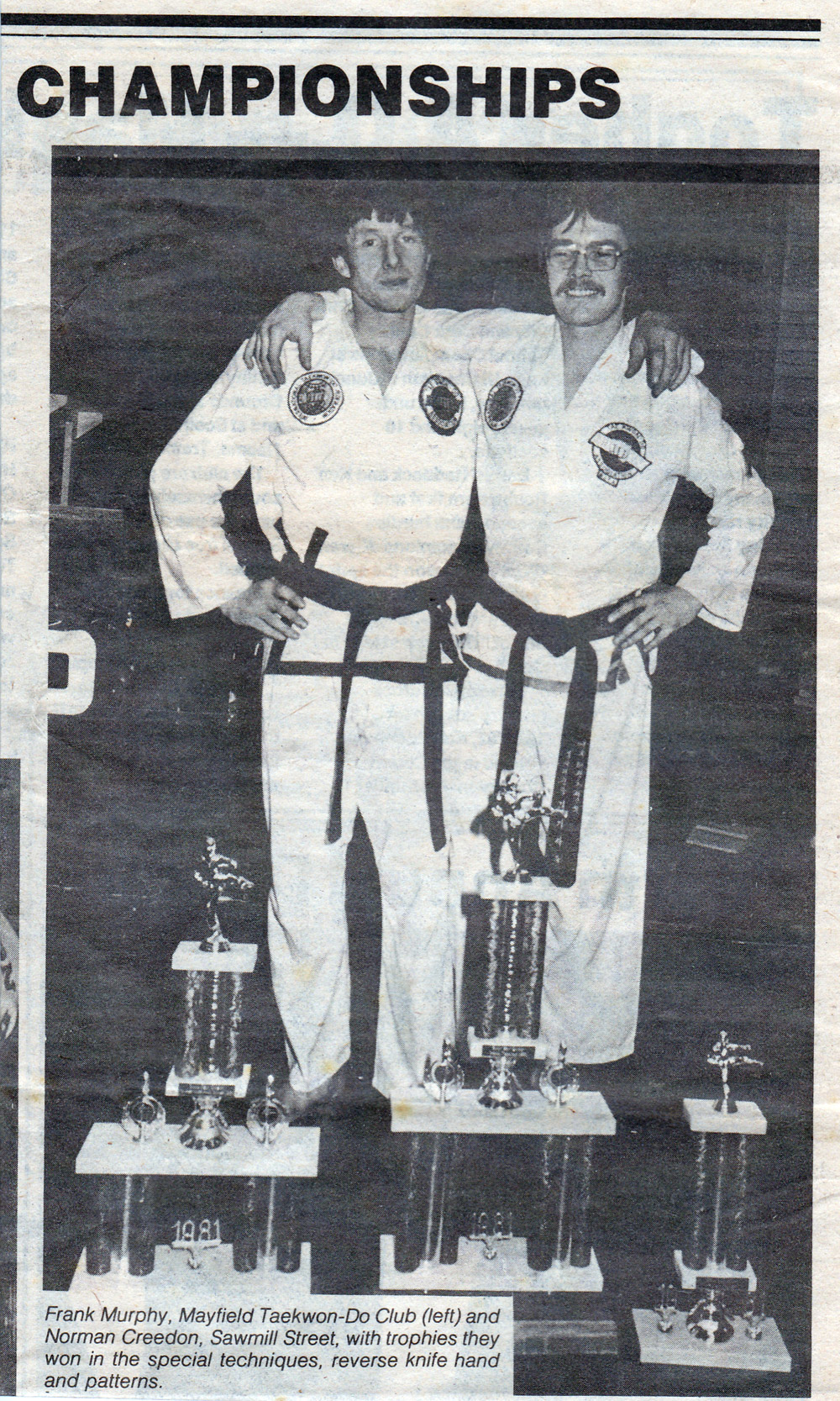 I competed in monthly tournaments that were held by the Republic of Ireland Taekwondo Association, which was the only association that existed back then. I trained with Norman Creedon, Alan Dalton, Pat MacCarthy, Michael and Richard Fitzgerald, the Walsh brothers, Bryan, Dermot and David, Jim Sullivan, Cyril MacSweeney, Tom Desmond, Denis and Willie Daly, Jimmy Foughy and Eamon Brierly.
We had no access to the Internet or mobile phones. Videos, books or any training aids were rare, Karate and the Oriental Arts, quarterly magazine had to be ordered in advance from Easons bookshop. On some weekends a few of us would drive the 160 mile round trip from Cork to Waterford, on that crazy road in the seventies, just to train with Francis Barrett for two hours.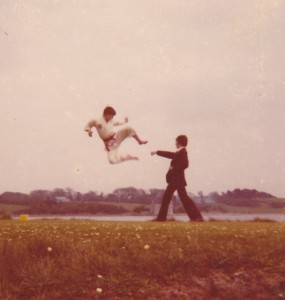 We used to travel everywhere for anything connected with training. Timmy Harte used to run a Shotokan Karate club in Castle Street in Cork and we ventured in there a few times to train, compete a little, and exchange techniques. We did bag work by using big post office postal bags filled with old clothes. We entered road races, and had mini skipping competitions and we would always be looking for places like fences or scaffolding to be stretching our legs. We managed to get massive satisfaction from simply training and conditioning. We had a common bond and the mid seventies and early eighties formed great friendships for me, both in Ireland and in the UK.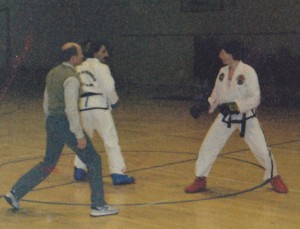 It was after one sparring competition in Neptune Stadium in Cork, where I made up my mind to learn more about Boxing, when I fought fellow Corkman, Cyril McSweeney in a grueling contest. It was a kind of North side/South side ritual most cities have, with both of us dropping into the splits beforehand to the delight of the tribe's folk urging us on from the sidelines. I struggled with my flexibility and after that competition, I decided then that my Boxing had to improve if I was to carry on competing. So I started taking Boxing more seriously and this helped me on the Irish Taekwondo Team, which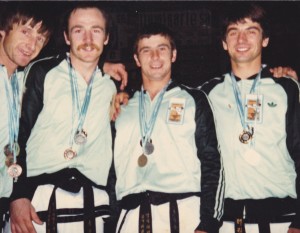 competed in Europe as well as South America.
I'm thankful to those thugs. They changed my life and the lives of many people. I started competing as a nervous green belt in 1975 and enjoyed a long, competitive Taekwondo career until finally retiring at thirty-seven from Sparring competitions at the TAGB British Championships in Sheffield in 1992.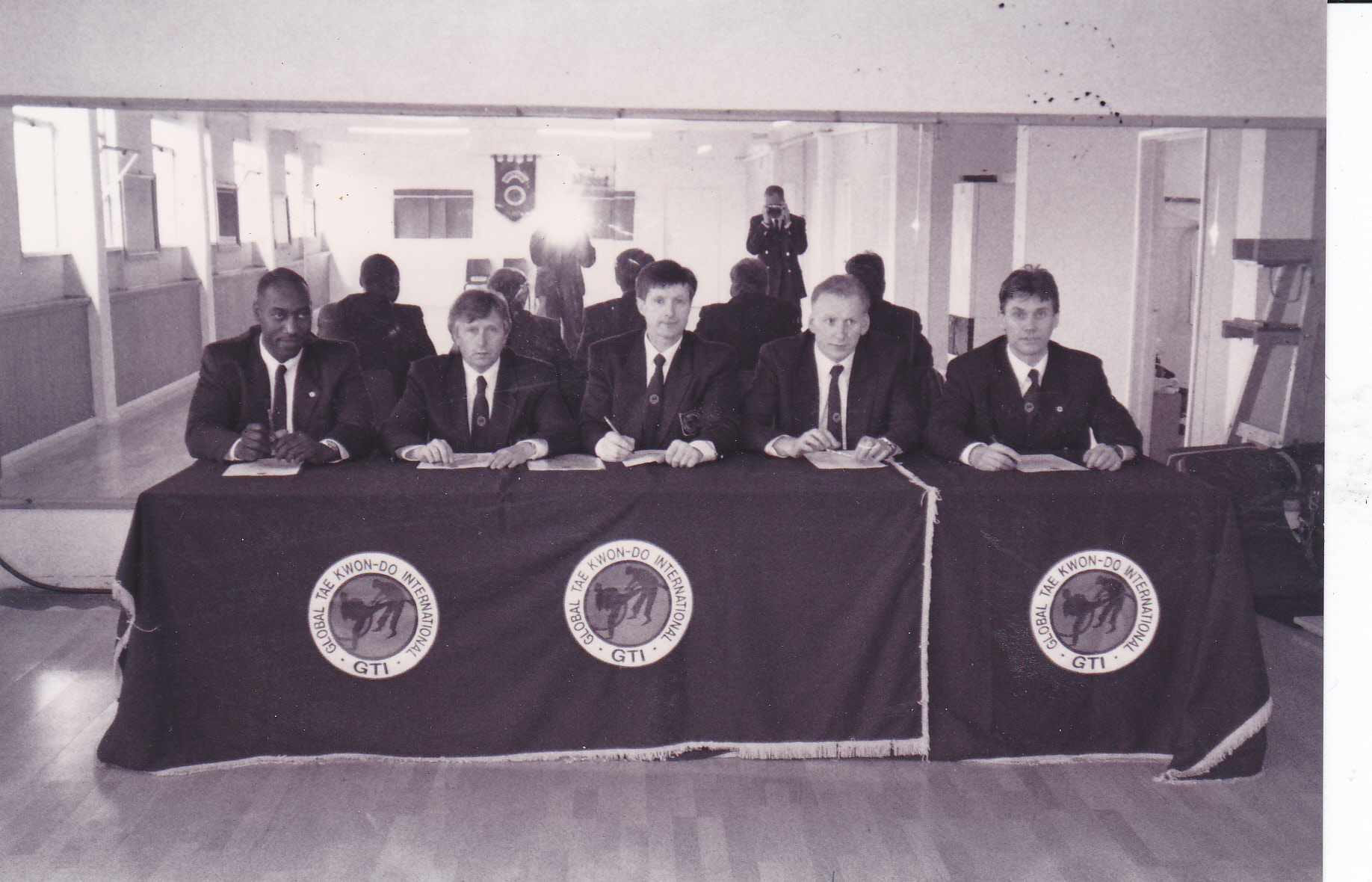 I moved to the UK in 1991 and in 1993, became Chairman of an organization called Global Taekwondo International, otherwise known as the GTI. It boasted 3,500 members at it's peak and placed me in a unique position of being able to train with a wide selection of instructors.
In 1996, I opened one of the first full time training centers in Gravesend, Kent and it became known as the Taekwondo Blackbelt Academy. In 1999, I met and married my wife Catarina who herself had been in Taekwondo for 10 years at the time, then qualified as a 3rd Degree Blackbelt and furthered her coaching skills by doing a Master's Degree in Physical Education at Loughborough University. We ran the Taekwondo Academy together, it quickly became very successful, and I employed instructors to teach the growing student body while I concentrated on travelling all around the UK learning from the anyone I could to further satisfy my hunger for martial arts knowledge.
Today I am a professional martial arts instructor, and as well as Taekwon-Do I teach Dr. Paul Lams, Sun Style Tai Chi in local care homes to complement my Taekwon-Do income. Taekwondo still continues to play an important part in my life. In 2014 I returned back into my original style of ITF Taekwon-Do under the banner of the Irish Taekwon-Do Association.  Now at almost 64 years of age, I am still excited and still that hunger to improve prevails. I realize my physical shortcomings, like I am unable to do week long training camps anymore and my travelling seminars are curtailed to as few flights a year.
Catarina and I continue to teach Taekwon-Do classes in in a small unit in Mitchelstown which caters for the town and surrounding areas. I feel privileged to be still involved and active in my daily training, through my own kids and my current students. My goal is to use my remaining  years via this website as a platform to teach any interested students who are willing and interested in learning more and sharing this latter part of my journey. While all this nostalgia is fine, I'm looking forward to the next chapter, the next training session, the next workshop and still see myself as a student of all the martial arts. Why ? , because you can live a few lifetimes and still not come close to comprehending the value in leading a healthy lifestyle and reaching our fullest potential through daily study of what the various martial arts have to offer us, regardless of our age or station in life.