Women's Self-defense Classes
Frank Murphy runs ladies self defense classes specifically for small groups.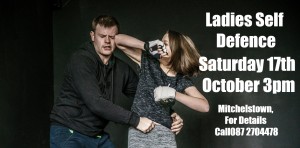 Frank Murphy offers self-defense at it's best and is specifically tailored to women. He takes this difficult subject and delivers it with professionalism and sensitivity.
 The in-depth training classes that are run on these courses cover threat awareness, line-ups, pre-emptive strikes, understanding fear, confrontation before and after, self defense and the law, and using what works best when you need it most in a street confrontation.
If you are a group or a company wishing to offer your female staff a course please contact Frank Murphy on 087 2704478 to arrange a booking. To book onto a course as a private individual please email frankmurphysmasterclass@gmail.com or contact 0872704478.