Sparring Drills Rules
Beginners start off learning Sparring drills before they embark into competitive sparring. The rules for sparring drills are the same as those for competitive sparring: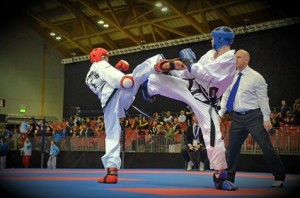 Sparring Drills are an introduction to Sparring. They are not Boxing, Krav Maga or MMA. HARD HITTING/KICKING IS NOT ALLOWED.  Only Touch Contact (semi contact) is allowed and this requires a lot of skill.
Sparring drill activities are only taught when your instructor feels you are ready for them. Members may only begin sparring drill activities based on their attendance, maturity & attitude, experience, skill and control level.
Shin guards, Hand Pads, Foot Pads (on bare feet only), Mouth guard and Groin guard (male) must be worn (For your safety Top 10 or Top Pro is recommended & ITF Approved).
Exercise extra control if you weigh more or are bigger/older than your opponent, or you have more experience than your opponent.
No Foot Sweeps are allowed & No contact below the belt is allowed.
Always inform your instructor of any injuries you may have or if you feel unwell.
Always inform your instructor privately if you feel somebody is using excessive contact. This information will be kept confidential. It is not 'grassing up'. It will help you and all the other members of the school.
Any member who fails to abide these rules will be banned from sparring activities – bullying and being 'big headed' or arrogant have no place in Taekwon-Do training.
Once the sparring drills are understood and learned thoroughly then the student may begin Competitive Sparring where a Head Guard must be added to the Kit.