Frank Murphy Bio
Frank Murphy 7th Degree  
Frank Murphy from Past to Present
Author, Blogger, Speaker and former Taekwondo international, Frank Murphy has enjoyed a colourful and varied career since he began training in 1974. As a fighter and coach for numerous Taekwondo teams in both Ireland and the UK, he is one of the privileged few to have been promoted to Black Belt by the founder of Taekwondo General Choi in Dublin, in 1977.
While these exploits earned him coverage in English,Irish and American Martial Arts magazines, his real gift has been a sharp wit and flair for public speaking. 
During a career spanning 40 years he has won eleven national titles ( seven of which were consecutive wins at breaking from 1980 to 1986) and three international Taekwondo titles, opened one of the first full time martial arts centres in the UK in 1996, chaired the British GTI Taekwondo Association, and produced the GTI student "Grapevine" magazine. He is a former columnist for the following magazines: Martial Arts Illustrated, Black Belt UK, and Martial Arts Success.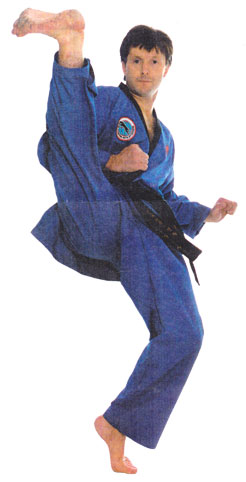 He produced a series of Traditional ITF Styled Taekwondo Colourbelt Pattern Videos in 1996, and in 2000 became one of the first Europeans to graduate from the American Council of Martial Arts, Instructors Training Course in Florida. He was a speaker at most of the major martial art business seminars in the UK from 2001 to 2005, and was invited as guest speaker to the World Martial Arts Industry Association Conference in Las Vegas, Nevada, in 2003. He was voted Taekwon-Do Instructor of the year by MAI in 2004, and received a lifetime achievement award for over thirty years of training, for his many contributions from the UK & US Martial Arts Industry Association, presented by David Lowe of Bytomic, at the College of Martial Arts in Birmingham, 2005.
His trademark dynamic teaching style has gained testimonies from martial art instructors worldwide and as a Black Belt grading Examiner he has promoted over 500 students to Black Belt. 
In 2006 he moved back to his native Cork in Ireland and developed a kickboxing fitness system called Kaizendo, with his wife Catarina, who has a Master's degree in Physical Education from Loughborough University. This was a project, aimed mainly for adults interested in fitness and Boxing .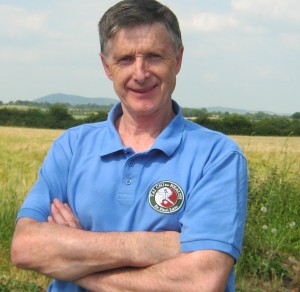 Frank Murphy now lives in his native Cork, Ireland and works as a Tai Chi instructor qualified under the Dr. Paul Lam Tai Chi institute, as well as a professional Taekwon-Do instructor.
Acknowledgments and Current Reflections 
I owe a debt of gratitude to my instructor,Master Aiden Walsh, who still inspires me to be true to the way and to Grand Master Ted Hopwood who ensures I am true to myself. To ABA Boxing coach, Wing Chun and Tai Chi Instructor Shabir Akhtar, whose won every major Taekwon-Do sparring title during his career. He above all else, has me still addicted to training today. I am grateful to my many peers and mentors over the years; Norman Creedon, Bryan & Dermot Walsh, Jim Sullivan, Michael "Haulie" Fitzgerald, John Canty, Cyril McSweeney, Alan Dalton, Pat MacCarthy, Niall 'O Keeffe, Francis Barrett, Willie Busteed, Mark "Sparkey" Fitzgerald, David Devins and  Mark Lee.
Master Hee Ill Cho made a massive impact, whom I was lucky to have had shared training time and long car journeys when I lived in England. Also in the UK and the US my main influences, mentors and training partners, were Lyn Evans, Bob Elliott, Bhupinder Sahota, Teh Hock Ann, Steve Sharkey, Steve Breakwell, Jane Halling, Dave Bonthuys, Kevin Summers, David Lowe, Matt Fiddes, Leigh Childs, Doug Lockwood, Kim Stones, Clive Harrison, Tony Sewell, Francis Plunkett, Bob Sykes, John Swift, Tom Callos, Fred Mertens, Nuala Perrin, Linda Arksey and Dr. Paul Lam. The list can go on but of course all instructors and students I came across made their own individual impact.
It is one of the greatest feelings as an instructor when one of your students rises to great levels. The first student that I promoted to Black Belt in the UK was David Martin. He has since traveled  the world studying from many masters and is now one of the top instructors under George Dillman.
Living in the UK brought highs and lows. I had a very successful Academy and some top class students in who fought against the odds in tournaments such as the Clash of the Titans. Dave Sheppard, Paul Haworth, Ian Lewis, Jonathan Day, Dave Harper and had also some great instructors, Jagdeep Sagoo, Pip Bassett, Leigh Haworth, Sean Wright, Andrew Wan, Jon Mills who was like a brother and Tommy Sinnot (RIP) which allowed me to take journeys for months at a time exploring the UK Martial Arts landscape like a child in a sweet shop and with all the cash I needed went about learning and absorbing what I could.
I strayed from Taekwon-Do, lured by all these delicious distractions and while I learned a lot, burn-out from the intensity of running the Academy and a VAT inspection lead to complacency and put ambitions on hold, so  I returned to Ireland.
A few years later my youngest daughter Maria was being bullied at school, so I took her to a Taekwon-Do club in Mallow. I was surprised to meet an old student of mine Mark Buckley, now recently has been promoted to Master Mark Buckley who was the instructor of Mallow Taekwondo club. I remember him as a very small boy with long black hair, who used to hitch a ride on the back of Mark Richards motorbike to get to my classes in Mayfield.  He had a pair of big brown boxing gloves bigger than himself and possessed an unhealthy love of sparring!
Meeting him again was a surreal experience as, after 40 years he, of all my past students, would be the one to help re-focus my training and teaching career with the Irish Taekwon-Do Association. That word "Association" does not really define what is in reality, a diligent group of seriously hard working Taekwon-Do fanatics, who have put years of toil and sweat into making the ITA the force it is today. I tell my students that "You are the company you keep" and to be among such a talented, educated, experienced and results driven crew is both scary and an honour.  I am excited about my future and grateful that a new chapter opens, many new friends yet to meet, and new exciting opportunities for myself and my students. My journey continues….
In life, very few make it alone, regardless of which tribe we belong to, so  perhaps we will soon cross paths,  meet-up on our journey to share training time and friendship together. 
MASTER FRANK MURPHY 7TH Degree CAREER TIMELINE.
1974 – Started ITF style Tae Kwon-Do after attending an Exhibition by Master Rhee Ki Ha who first brought Tae Kwon-do to the Republic of Ireland and the U.K. Began training with Master Aiden Walshe from Dublin.
1977 – Promoted to 1st Degree Black Belt by founder of Tae Kwon-do General Choi Hong Hi.
1979 – Opened his first Tae Kwon-Do club in Mayfield, Cork City, Ireland.
1980 – 1st Place Breaking – RITA Irish National Championships.
1981 – 1st Place Breaking & 2nd Place Patterns – RITA National Championships
1981 – Member of the Irish National Team who competed in the 3rd World Tae Kwon Do  (ITF) championships in  Argentina. 1st Place at Team Patterns, 2nd Place at Team Breaking and 3rd Place at Team Sparring. Individual Bronze Medalist at Patterns.
1982 – 1st Place Breaking and 1st Place Patterns -RITA National Champs.
1982- Awarded the Taekwondo sportsperson of the year from the Cork Indoor Sports Association, for achievements and organising Taekwon-Do events in Cork city.
1983 – 1st Place Breaking and 1st Place Sparring – Irish National Championships
1984 – 1st Place Breaking – Irish National Championships
1985 – 1st Place Breaking, 2nd Place Patterns, 3rd Place Sparring – Irish National Championships.
1985- Organized the first Karate. V. Tae Kwon Do tournament in Cork with Sensai Timmy Harte.
1986 – 1st Place Breaking – Irish National Championships
1987 – Promoted to 5th Dan by Master Hee Il Cho.
1988 – Conducted first seminar in the U.K. Holmfirth Sports Centre, Huddersfield.
1989 – Drafted colour belt grading syllabus for the All Ireland Tae Kwon-Do Association
1991 – Moved base to the UK, joined the Tae Kwon-Do Association of Great Britain.
1992 – Opened the first clubs in the U.K. Crawley, Watford & Gravesend.
1993 – With the help of four other instructors, founded the Global Tae Kwon-Do International U.K.
1994 – Appeared on Sky Sports representing the G.T.I. Conducted first Instructors courses for the GTI .
1995 – Represented the G.T.I. in Germany at the 30 Years Tae Kwon Do celebration in Cologne.  Trained with Grandmaster Kwon Jae Hwa one of the founders of the ITF.
1995 – Produced the 1st edition of the grading syllabus book for the G.T.I.
1996 – Appeared on the front covers of Combat, Martial Arts Illustrated and Fighter magazines promoting the G.T.I. Established over 3,500 students in the U.K. as well as Northern Ireland.
1996 – Produced the 2nd edition of the grading syllabus book for the G.T.I.
1996 – Opened up full time MartialArtsAcademy in GravesendKent. Promoted to Sixth degree Black Belt by Master Ted Hopwood 8th Degree.
1997 – Voted Tae Kwon-Do Instructor of the year by Martial Arts Illustrated
1997 – Held the first G.T.I. Summer camp in the Scilly Isles
1997- Published the in-house magazine 'The Grapevine' for the G.T.I.  One of the first UK schools to join the EFC. Attended two  EFC conferences in New York  and two the UK.
1998 – Hosted one of the first seminars with an up and coming martial arts star
Geoff Thomson in Gravesend in Kent. Resigned from the G.T.I.
1999 – Became completely independent as 'Family Martial Arts Black Belt Schools'     First  UK  school to join NAPMA.
1999 – Produced a 3 set series of Traditional Tae Kwon Do instructional videos.
2000 – Became a regular columnist with "Frank Murphy's Master Class" in Martial Arts Illustrated Magazine.
2000 – Graduated from the, ACMA, American Certified Martial Arts Instructors Course, which was supported by the Cooper Institute, DallasTexas.
2000 – Hosted one of the first NAPMA courses in the UK. Began teaching the new system Kaizendo.
2001–   Family Martial Arts receive "Best School" award for their service to the local community in Gravesend, Kent, UK.
2002-Became a columnist for martial arts industry association (MAIA) magazine, MA Success.
2003–   Appeared as guest speaker at the MAIA world martial arts conference in Las Vegas Nevada.
2003- Master of ceremonies for the British College of martial arts, Forest of Arden Hotel, Birmingham. Received a lifetime achievement award from MAIA sponsored by Bytomic Distribution.
2004-Voted Instructor of the Year by Martial Arts Illustrated Magazine.
2007- Relocated to Ireland, began first Kaizendo classes in Mallow, Cork.
2008- Hosted a Taekwondo Training weekend at Mallow sports centre for grades of 3rd degree Black Belt and above.
2010. Received longevity award from the Lord Mayor of Cork, on behalf of the Cork Indoor Sports Awards Association for over twenty eight years of Taekwondo involvement, since first winning this award in 1982.
2011- Promoted to Instructor under the Dr. Paul Lam system of Tai Chi, specialising in teaching Tai Chi for Arthritis Sufferers.
2011- Promoted to 7th Degree Black Belt in  Taekwon-Do by one of the original pioneers of TaekwonDo now promoted to Grand Master Ted Hopwood 9th Dan.
2011- Graduated the first 22 Kaizendo students to Black Belt in Mallow, Cork.
2011- Launched a new website www.frankmurphysmasterclass.com
2012 – Kaizendo gains recognition by Kickboxing Ireland and the Irish Martial Arts Commission.
2012 – Release of  book 'Boxing Basics for Martial Arts'.
2013 – Regular contributor to 'Totally Taekwondo' on-line magazine.
2014 – Joined the ITA (Irish Taekwondo Association) and opened up the clubs together with my wife Catarina Murphy 3rd Dan in Ardfinnan, County Tipperary and Mitchelstown, County Cork.
2014 – Was one of the organizers and promoters of the hugely successful Cork 40 Years Reunion of Taekwon-Do.
2015. Passed Level One of the Irish Martial Arts Commisssion Exam, Specific for Taekwon-Do.
2016. July Attended the ITA Summer Camp
For more details, contact 00353 872704478, alternatively complete the contact form.