Latest News
31st December 2020 – New Year Update
Dear Parents and Students,
 It is beginning to feel like groundhog day! We had just prepared our revised January 2021 timetable and now we have to scrap it because we are in lockdown again…! Happy Days!
So we have decided that formal zoom classes/Open Gym training will begin when we are back in the gym in February 2021.
LOCKDOWN TRAINING: In the meanwhile, to help the children cope with this winter lockdown, we will do a weekly session via zoom from our home. It will be mainly Taekwondo fitness and conditioning exercises for half an hour or so, and suitable for all grades. The idea of these sessions is to help keep students motivated as well as some beneficial exercise.
 We can't guarantee the quality of the transmission but there will be no fee for these sessions. All we ask is that you make a donation to your preferred charity for our efforts.
We will confirm the day and time of the sessions in due course because at the moment we are up in a heap due the short notice from the government. These training sessions will not be scheduled via LEGITFIT, instead we will send you a link via email/text.
Come towards the end of the lockdown,  could let us know if you are in a position to return in February as this will help us plan the new timetable. As mentioned previously, the number of students registered on the LEGITFIT system has a big bearing on our insurance costs and currently it is critical for us to keep our costs down. If you are unable to enter the system, just contact Catarina (0873290003) and we will reactivate your membership.  If we haven't done so already, we will re-credit you with any class credits that were due to expire in January 2021, so please do not hesitate to contact us to let us know.
Finally, we wish you and all your families a very happy New Year with the hope that things will improve for everyone in 2021.
Keep Safe and well, regards to you all
Frank and Catarina Murphy
23rd  December 2020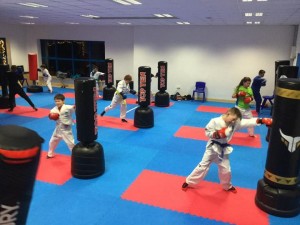 Dear Parents and Students
It's been a tough year for everyone and many of us are glad 2020 has come to an end, now with the hope things will improve for 2021. We thank you all for the support over the year and we understand not everybody was in a position to attend the adapted training sessions,  especially those with vulnerable family members or connected to the HSE. We didn't do our usual text/phone contact with parents other than through email updates ,and facebook posts as we did not want to put you under any extra pressure, but rest assured, we were thinking of you all and hope you are well.
The 'Open Gym' has proved to be quite a success, a great workout, and we intend to keep this going until restrictions are lifted. We heavily invested in good standing bags so that each student has their own training station, 2-3m apart.
WHAT IS OPEN GYM? (see picture)
This is individual pod training where 10 students at a time can attend the Gym and have their own training station with a standing kick bag and their own chair which they must stay at throughout the whole session.
They are guided through the training session as we collectively coach on the sidelines at a safe distance
We check your temperature on arrival .
We sterilise the gym and all it's equipment with the Topozone unit at the end of the day, & sanitisation takes place in between sessions.
We always keep the windows open for good ventilation
we request for students to sanitize their hands upon entering and exiting the gym.
Further to the recent government announcement, we are allowed to continue with the Open Gym sessions but we now ask all students to take the extra precaution of wearing a facemask upon entering and exiting the gym. This is the only time you may briefly be in closer proximity or possibly cross the path of other people (especially as we take your temperature upon arrival).
It is also necessary because we share the entrance with Lely, so on occasions they may have staff entering and exiting at the same time and therefore may cross your path. We also ask all parents to complete a COVID Screening questionnaire prior to every visit to the gym without fail.
Please note, you do not have to train with the facemask on.  
Having said all this, we decided to put on some Open Gym sessions (age specific) and 1 zoom class (open to all age groups) during the holiday period, Tuesday 28th December and Saturday 2nd January as some of the kids may like to shake themselves up a bit after the Christmas festivities!
Once again we ask you to book ahead online if you wish to attend. Please do not send your child to training without prior booking, you should always receive a booking confirmation from LEGITFIT via your registered email 24hours beforehand.
After these holiday sessions we've created a new timetable (different to before) with a combination of Zoom classes and 'Open Gym' Sessions. This timetable may be subject to change depending on the uptake or any government restrictions.
Finally we'd like to take this opportunity to wish you and your families, with a special thought for your Grandparents and elderly relatives, a very happy and peaceful Christmas and the very best of health and happiness for 2021.
Keep strong and if you have any questions, please do not hesitate to contact us. Best Wishes to you all!
Frank and Catarina Murphy
UPDATE: 16th December 2020
For the moment, we will continue to operate on a 'first book first serve' basis while we continue in level 3 restrictions. The plan is to keep up the children's fitness  with the Open gym sessions. We will offer midweek zoom classes to cover Technical Taekwondo training (patterns, linework, step sparring etc), and some basic technical sparring drills.
If we find that some sessions are poorly attended, then we will cancel them as we need to operate the gym as efficiently as possible. Also, if you wish to attend and you find that a particular session is always booked up, please contact us and let us know and we will see if there is a suitable alternative for your child.
We would like to remind you that only 10 students at a time can attend the 'Open Gym' sessions so pre booking is absolutely essential. An easy way to check all your bookings is to log into your LEGITFIT account, go into the 'Home' section and look under 'My sessions' and you should see the list of your up and coming sessions. If you are unsure which session is suitable for your child, please contact us.
Finally, we know you are all sick of filling out forms but it is imperative that you complete a COVID screening questionnaire on behalf of your child before attending any session at the gym. Failure to do so may result in the authorities shutting down the gym.  In order for us to be able to check the forms we would ask that you complete them the evening before the training day (Approx 24hours before training and not more than 48 hours beforehand).Thank you for your co-operation.
Training will run as follows for the next 4 weeks:
w/c 14/12/2020 – current timetable of training sessions
w/c 21/12/2020 – Christmas week NO ZOOM CLASSES/NO OPEN GYM
w/c 28/12/2020 – holiday schedule of OPEN GYM
w/c 04/01/2021 – New schedule of Open Gym & zoom classes
We would like to take this opportunity to wish you all a very Happy and Healthy Christmas in the hope that 2021 will be better for everyone.
Best wishes to you all
Mr & Mrs Murphy