Latest News
Dear Parents and Students
We are rapidly coming up to our end of term ( June 8th)  and it has been a fantastic year for us since September 2022. We participated and medalled in all three major national tournaments . ranking  an incredible 10th nationally at the Munster open!  As well as the gradings that took place over the year, we hosted our two very successful development tournaments which raised many hundreds of Euros for local community charities. Congratulations to you all!
We'd like to now bring to your attention a few notices which will bring you up to the end of term::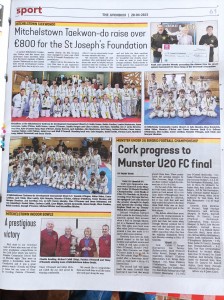 THANKS AND CONGRATULATIONS:
 We would like to thank all who helped and participated at the Demo and Development tournament that took place on the last Sunday of the Easter holidays. We  managed to raise over €800 in aid of St. Joseph's Foundation on this occasion. You can read details on our
 facebook page Mitchelstown Taekwondo
 or on the Avondhu writeup which we have attached below.
NO CLASSES THIS BANK HOLIDAY MONDAY: As many people are away over the bank holiday we will not be running this Monday 1st May. Please make up your class on an alternative evening or Saturday. If you have trouble booking in Legitfit, contact Catarina to ensure a suitable class on 0873290003.
NATIONAL TECHNICAL SEMINAR 14th MAY:
 This is  organised by the national association (ITA) and open to Green belts and above. It will take place  at 
St. Mary's National School (Ballygunner National School), St. Mary's National School, Bishopscourt, Ballygunner, Waterford City
. If you wish to attend you must pre register with them using this link:
 Technical Seminar 14th May 2023:
We recommend  the higher grade students, particularly the blue/red belts  try and attend some of these non-competitive events as part of their preparation for the black belt grading.
LICENCE (ITA MEMBERSHIP) BOOKS: Thank you to all those students who renewed their annual licences. By now all students who are yellow stripe/tag and above should have received their licence book. If you lose your licence book it costs €5 to replace. License books should now be submitted to be logged at every grading.
SUMMER UNIFORM: As it may get warm over the next few weeks we allow students to wear club T Shirts instead of uniform tops. If you do not have a club T-shirt you can wear either plain white or plain black T-shirts (no designs on them) in order to maintain the regimented environment of learning in the classes. Everyone is expected to wear the uniform pants  (no tracksuit pants) with your belt at all classes including Saturday 1.15pm class. However those who wish to practise in full uniform ( Dobuk) are welcome. 
NINJA GRADUATION CHANGED TO SATURDAY 3rd JUNE: The last Ninja class will now take place on Saturday 27th May and the graduation will be on Saturday 3rd June at 10 am. Parents are invited to attend this event and grading forms will be given out soon. After this graduation, we will invite the eligible students (those who are over age 7)  to start a new class where they will be upgrading to the Junior syllabus in September. Sparring Gloves will be required for the new class.
GRADINGS: 
The end of year gradings for those eligible will take place on Friday 9th & Saturday 10th June. All the training you have done to date is taken into account.  Your child will be informed if they are grading and we will give out grading application forms within the next couple of weeks. 
Grading application forms must be returned on time in order to receive a grading certificate from the ITA. 
The candidate must be fully fit and competent on their respective belt syllabus and has enough attendance to warrant eligibility. In the case of younger Junior students, we will give feedback on their progress and mark their last class with a golden tag. For more information about gradings, follow this link 
Criteria for Progression | Frank Murphy's Masterclass (frankmurphysmasterclass.com)
.
  There will be no blue belts students and above grading this summer..
BLACK BELT GRADING CANDIDATES: We'd like to wish our black belt grading candidates  Ryan Jones and Maria Murphy the very best of luck at the up and coming black belt preliminary panel grading in Mallow on May 13th.
LAST CLASSES OF THE TERM: The last classes of the Summer term will take place on Thursday 8th June. We will pause your membership accounts over the Summer holidays until your return in September.
TRAINING FOR YELLOW BELTS AND ABOVE IN AUGUST 2023: A Summer schedule of training will take place for these students from mid August 2023. We recommend any student  thinking about competing in the Irish Cup (UL) in November should start their  training in August.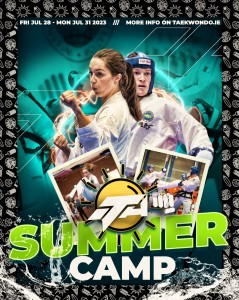 ITA SUMMER CAMP 28th JULY 2023:
 This will take place in Middleton again this year and is open to Juniors yellow belt and above ages 13+. You can go for all 3 days full board (€200) or just for a day (€30). It still hasn't been closed off so if you are interested please let us know so that we can confirm with the organisers what days you are attending.
ITA NEWS & EVENTS CALENDER
: Each and every event countrywide (tournaments/seminars etc)  can be found in the events section of the ITA website 
www.taekwondo.ie
.
NEXT MAJOR TOURNAMENT: This is the Irish Open which will take place in early  November 2023 at UL Arena and is open to yellow belts and above who have been sparring for at least a term.
T-SHIRTS: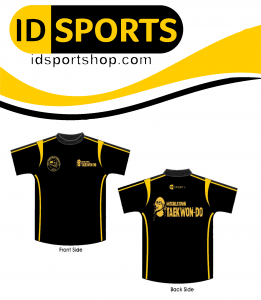 ID Sports in town have now designed a Taekwon-Do T-Shirt for Summer Training. You can purchase it online or pop into the IDSports Shop in town to check your size and order. They are good quality and hopefully will last a long time. They cost from €20 – €24  depending on size.
If you wish to have the T-shirt by mid July, you need to order by the end of next week.. If you wish to have a T-shirt for August training, you will need to order by the end of June.
Here is the link to order online:

https://idsportshop.com/collections/mitchlestown-taekwon-do-club
Once again thanks for all your support over the year and we wish you all an enjoyable rest of the bank holiday weekend.
Regards
Frank and Catarina Murphy