Latest News
Dear Parents and Students, here is our latest News:
We are now approaching the end of term and just wanted to remind you of important updates and some changes:
CAR PARK DANGER: We would ask parents, or anyone dropping off children to take more care upon arrival to the venue as there are young children exiting the building, some run out suddenly and then crossing the road towards the parking spaces. Anybody driving fast may hit a child and we have had reports and witnessed a few near misses. Please allow plenty of time for parking.
Do not pull up or park just outside the front door because once again it blocks the view of exiting children who are looking for their own parents/guardians and inadvertently may run in front or behind your car which you or others may not see.Your cooperation is appreciated.
GRADINGS: The Summer grading week will take place from Saturday 11th June to Thursday 16th June.  Not every student will be eligible to grade on this occasion as some students may need extra time training to reach the required standard, especially the students going for higher grades (green belt and above) or students who trained inconsistently over the year. Those who are not eligible on this occasion will receive a golden tag in class at the end of term for their efforts so far. The next gradings/assessments will take place in November/December 2022.
NINJA GRADUATION: This is the belt promotion ceremony for the younger students who attend the Wednesday 6.30pm class. This is now taking place on Wednesday 8th June. The final Wednesday class is on the 1st June. .
The last Saturday class for Ninjas will be on Saturday 4th June. Saturday Ninjas will receive golden tags.
LAST CLASSES OF THE TERM: The last classes will take place on Thursday 9th June 2022. There will be no classes during the grading week which starts on Saturday 11th June 2022 and ends Thursday 16th June.
BOOKING AND PAYING FOR THE LAST CLASSES OF THE TERM: All packages need to be finished or used up  by the end of term. You are welcome to book into extra training but please check with us first for the most suitable class to attend. In the last couple of weeks you have the option to book and pay by the class through Legitfit (click on the timetable and pay by the class online) rather than buy a new package,
SUMMER TRAINING: We will conduct some summer training in August and a full return to classes will take place in September 2022. We will contact you with details of the August training closer to the time.
BOTTLE OF WATER: Please do not forget to give your child a bottle of water to prevent interruptions and delays in the class.
ITA SUMMER CAMP: The ITA are running their annual Summer camp in Middleton this year open to yellow belts & above age 13 & above. You can go for all three days, from Fri, Jul 15, 12:00 PM  Mon, Jul 18, 1:00 PM, full boarding (€200) or just for a day (€30). If you wish to attend please complete an application form and return to Mrs Murphy a.s.a.p. as this event fills up quickly,  Forms and details are available on the notice board in the entrance of the gym.
NEXT MAJOR TOURNAMENT: This is the Irish Open which will take place in early  November 2022 at UL Arena and is open to yellow belts and above who have been sparring for at least a term.
T-SHIRTS: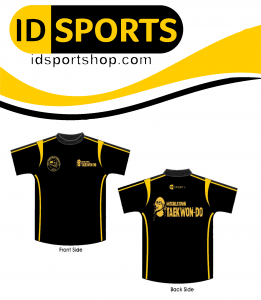 ID Sports in town have now designed a Taekwon-Do T-Shirt for Summer Training. You can purchase it online or pop into the IDSports Shop in town to check your size and order. They are good quality and hopefully will last a long time. They cost from €20 – €24  depending on size.
If you wish to have the T-shirt by mid July, you need to order by the end of next week.. If you wish to have a T-shirt for August training, you will need to order by the end of June.
Here is the link to order online:

https://idsportshop.com/collections/mitchlestown-taekwon-do-club
HOODIES/HALF ZIPS/ KIT BAGS: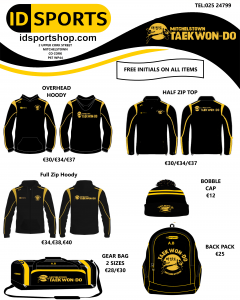 Thanks again to all those who supported the Taekwondo school over this year. Like many other businesses, we are still striving to recover after the impact of COVID. If you have any queries please do not hesitate to contact us. Please refer all Legitfit queries to Catarina only (0873290003) or email us on frankmurphysmasterclass@gmail.com.
 If we don't get an opportunity to see you before the end of term, we wish you a very happy Summer break.
Kind Regards
Frank and Catarina Murphy