Murphy's Masterclass
Taekwondo for Children
Give your Child the gift of Confidence…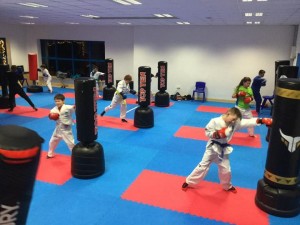 Welcome to our school of Taekwondo, Tai Chi, Martial Arts and fitness. We are much more than just kicking and punching and certainly more than just another activity. We are about bridging the gap between you the parent at home and the teacher at school. By learning through  physical exercise we teach the principles of courtesy and respect and instil an atmosphere of fun with discipline in all our classes.
As parents ourselves we know these results cannot be achieved overnight. Through regular training we can teach valuable life skills, improve confidence and self esteem, help your child stand up to negative peer pressure and teach strategies to deal with difficult issues such as bullying.
We are getting back to normal as COVID restrictions are being  lifted. We will gradually resume classes under government approved COVID-19 Protocols.
In order to attend any of our classes you must be registered with us and book online . Please contact us with an updated email address for more information.
For all other enquiries please contact us via email on frankmurphysmasterclass@gmail.com or  through our facebook page Murphy's Masterclass.

Frank Murphy (Tai Chi for Health instructor and 7th Dan ITF Taekwondo) & Catarina Murphy ( MSc. Physical Education & 3rd Dan Taekwondo).
Government Approved members of the Irish Taekwondo Association.