Training Rules
DOJANG (TRAINING HALL) RULES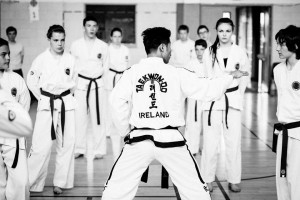 Bow to show respect to your fellow students and instructors upon entering and leaving the training hall (Dojang).
Always wear a clean uniform (Dobok and belt) during training in order to maintain the atmosphere of discipline.
Finger and toenails must be kept clean and clipped.
Eating and drinking (except at water breaks), are not permitted in the Dojang. Ensure you bring a bottle of water to training.
Do not chew gum, or have any form of food in your mouth whilst training as this can cause choking.
For your safety and that of others, remove all sharp jewelry, watches etc.
Please observe the rules of the Mitchelstown Leisure Centre and Gaelscoil de hIde. There should be no running around in corridors, or any other area.
Students who constantly disrupt (making noises, talking etc.) will be asked to sit out for a period of time, until ready to return.
Bullying (Unacceptable physical contact such as pushing/shoving, excessive contact in sparring activities or verbal intimidation) of any sort, may result in expulsion of the student from the school for a period of time or permanently depending on the seriousness of an offence.
Address the instructors as Sir or Miss, or Ma'm.
What is practiced in the Dojang should not be misused elsewhere.
Inform the instructor if you have any injury, feel unwell or if you are under any medication.
A SPECIAL NOTE TO PARENTS: 
We would ask parents who wish to observe the classes to minimize talking and to put mobile phones on silent during the class time. Regardless of the venue, our primary goal is to set out a structured environment to ensure the education of respect, discipline and confidence building life skills remain paramount in order to grow every child's overall development. Your co-operation is this primary goal for your child or teen is greatly appreciated.
If you have any form of serious complaint, please do not interrupt the class time,  make an appointment to speak to us, or call us.
If you bring younger siblings, please ensure they are monitored at all times and do not allow them to venture onto the matted area. Please ensure that they do not go into the second half of the large training hall (MLC) or on the stage area of the school hall (Gaelscoil de hIde, Fermoy).
For the purposes of insurance, only registered students can participate in the tidying up process at the end of the classes.
All students must have an up to date license in order to train and participate in ITA events.
We would like to remind you that taking pictures or video footage during the classes is forbidden.
If your child participates in tournaments, the main congratulations will take place at the medal ceremony in the tournament on the day, where the child will stand on a podium and will be presented with a medal by the President of the ITA or an equivalent dignitary  of the Taekwondo Fraternity. On occasions,  a presentation will be arranged back at the Taekwondo school by the instructor to congratulate all the competitors, not just the medal winners. This will be arranged at a separate time and not during standard class time because we run a very tight schedule for the classes.