Our Ethos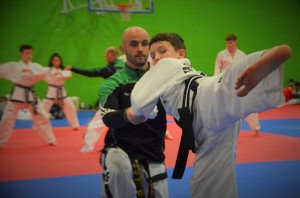 Our aim is to be all inclusive and not just solely a competitive club. Our self defense training is not just physical but comes in the form of protection against the world of  distractions, negative peer pressure, unhealthy dietary habits etc.  We aim to educate children in 'the way of the martial artist', which comes with the development of valuable life skills, therefore helping the children become well rounded individuals.
We aim to teach Taekwondo to a high standard expected by the Irish Taekwondo Association (ITA) and the ITF (International Taekwondo Federation) . Through the ITA, we have an excellent platform and access to World Class coaches to challenge the gifted and talented, particularly if they are interested in competitive Sport Taekwondo.
Competition is not compulsory, many children will not compete, and that is totally acceptable. For most students, the goal of getting the next belt is enough. And it gets harder physically and in discipline as they go up the grades. Some children will take longer to reach the next belt compared to others, but with resilience, hard work and perseverance, much can achieved because every child  is different.
Whatever the length of time your child is with us, we aim to give them the best of lessons in physical and character development  which we hope will hold them well for the future.