Taekwondo Breaking Techniques
MARTIAL ARTS ILLUSTRATED MAGAZINE, March 2000, Vol.12, No.10.
Frank Murphy's Masterclass on Breaking, materials used, equipment and the training involved. This is a practice which is typical of many martial arts such as Karate and Taekwondo, and many of us are fascinated when we watch a demonstration of bricks and tiles being smashed into smithereens!  But a small warning, with the understanding of Sports Science, it is now advisable to avoid such practice as it may cause arthritis in some individuals at a later stage in their lives. It should definitely be avoided by children as it will affect the growth and development of their bones.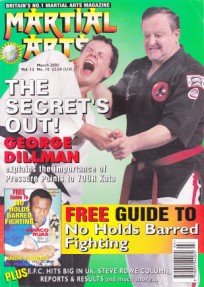 Frank Murphy was renowned in the Taekwondo spheres as being an expert breaker and in his competitive days, others dropped out of breaking competitions when they new Frank Murphy was a contender… In this article he describes technique, breaking materials and equipment used in this practice.
If you would like to know more about this old fashioned practice…read on by clicking on the image of the front cover.