GTI Chairman Frank Murphy Addicted to Taekwondo
TAEKWONDO & KOREAN MARTIAL ARTS, Vol.2, Issue 5, June 1997, p.34 – 41.
Frank Murphy Interview – No Cure For Me – GTI's Chairman, Frank Murphy tells us how he became addicted to Taekwondo.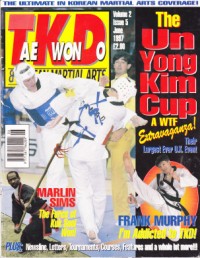 In this interview you get a fairly detailed history of Frank Murphy's Martial Arts background, mainly in Taekwondo. He talks about his involvement with the G.T.I. (Global Taekwondo International) as Chairman and his aspirations for Taekwondo and the organisation at the time. It details his own personal training and the people and friendships he made on the way. Also those who influenced or worked with him in the G.T.I. such as Tony Sewell, Kim Stones and Clive Harrison. To read the full article, click on the image on the right and scroll down.