The Cork Taekwondo Funeral Experience
On Thursday morning I bumped into some old Taekwondo training friends and even some former Taekwondo foes, when I attended a funeral here in my hometown of Cork in Southern Ireland.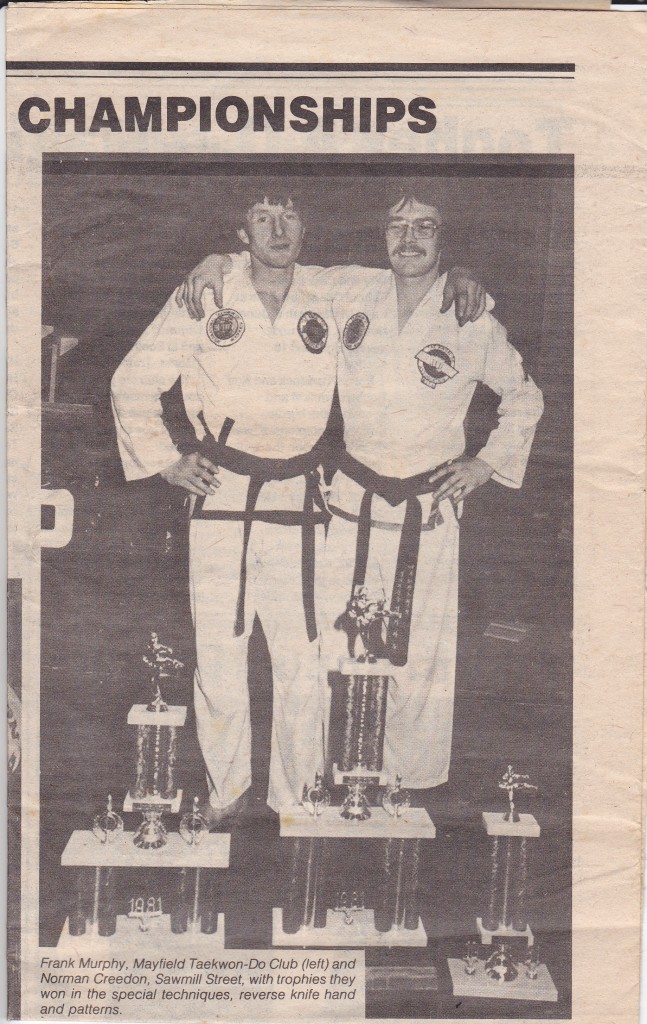 With a population of one hundred and fifty thousand, and well over forty clubs and schools scattered throughout the city, Cork has grown to become a hub of activity for the Korean art since it was introduced here by Master Aidan Walsh, 39 years ago, back in June of 1974.
The city's love affair with Taekwondo has made it a household name among us Corkonians. Sure, as instructors and student's we have had our share of ups and downs. We had good times and hard times, and these 39 years of growing pains have today resulted in many of us now standing in different camps. We had huge successes with major tournaments and we hosted sell out exhibitions. Sometimes we argued and we fell out, and slagged each other off, but in the end, there is one thing which gives me hope for the future of Taekwondo friendships….the Cork Taekwon-Do funeral experience.
Allow me to share a part of Cork culture that although not in the guide books but nonetheless interesting, should you ever visit this fair city.
To most foreigners, a funeral is mostly a sad occasion, and in Cork, it's all this too. However, here in Leeside, we make it unique. It's a ritual with a certain agenda that makes us drop everything immediately and make arrangements to attend. Regardless of who else is going, we're duty bound by tradition, to mend and heal old wounds and befriend all and sundry.
Irish Funeral's have a standard way of unfolding. You have the choice of going either to the Mass, the Removal or the Funeral itself, or all three. It's simple to find the church as cars are illegally parked for miles before you even get to the actual car park. Every possible parking space that would normally induce a fine is taken up, but traffic wardens customarily turn a blind eye to mourners and abandoned vehicles.
Be prepared for loads of hand clasping as you shuffle along the back of the almost, always crowded church. Half spoken and half whispered, "Isn't it awful, Ahh, Tis ,Tis, Tis," and "'Twas quick in the end," especially if the deceased was dying for years, are popular greetings.
The removal is another chance to meet long lost friends and foes, see how their children turned out and compare wives, husbands and partners. By now your social guard is down and it's not above anyone to question the absence of certain individuals. Everybody must attend at least one part of a funeral in Cork, there is simply no excuse.
The only excuse is that one, or two trusted neighbours, preferably two big males are left behind, guarding the ranch back home to prevent opportunistic thieves, who would have scoured the local death notices and add to the misery. The thieves however, are not the only people, who look at Cork funerals for opportunities, as the local politicians usually make an appearance, handshaking the main mourners with a lame chorus of "Sorry for yere troubles".
At Thursday's funeral, meeting up with people I had not seen or trained with in years, proved again beyond a doubt that politics has ravaged many friendships in my hometown for too long. I hope you "like" this tongue and cheek look at ourselves because deep down we all wear our Irishness on our sleeve.
What is so bizarre is that the funerals have the effect of dissolving the meaningless politics that keeps Taekwondo groups and friends apart for years. At funerals we always are glad to shake hands, to talk freely and comfortably without any barriers and share our old training stories. If we go "back to the house for a-cuppa-tee" we usually scoff white platefuls of those triangle chicken and ham sandwiches and relax with each other. We exchange contact numbers with the promises of keeping in touch. But at the end of it all, I am left wondering why can't we extend this behaviour beyond these funerals, and set two hours of one day aside every year for us all to train together? Perhaps even for a meaningful cause or charity?
What is the point of all this training if we can't co-exist, despite our troubled past. Surely we have all been to enough funerals and shaken each others hands, often enough now, to see that we are missing a massive opportunity in this town. Most of us are in our late forties and fifties and perhaps I am a doomed romantic who dreams that things could be a lot better if we pulled together more. A sparring contest is tough, a cage fight is tough, but sitting down on opposite sides of a table and trying hard to see life from another's point of view is the stuff that we all hope to really master. That's tough, and that is something that once mastered can be used again and again to make us better human beings.
One of Cork's stalwart Taekwondo Black Belts, Alan Dalton, buried his mother yesterday. I stood in the misty July rain in Kilcully cemetery on Cork's North side, mumbling my incoherent prayers through a decade of the rosary, watching my Taekwondo brother lay his mother in her final resting place. For those who may not have heard of him, he is as modest as they come, a formidable fighter. His fists were not much good to him on Thursday but his friends were. Another well known Cork Black Belt, Michael Burke only yesterday buried his father.On behalf of everyone connected to Taekwondo here in Leeside, we express our sincere condolences to Alan, Michael and both their families.
On the drive back home, I thought of all the big funerals we all were at down the years, especially Robbie O'Shea's and this acidic Cork discourse on how we behave ourselves is the result.  It may be the catalyst that brings us all together in genuine friendship when this city celebrates 40 years of Taekwondo next June 2014.
If you agree with these sentiments, you might hit that old 'like' button. If you really think we might have any chance of getting together for next year, you might even share this blog with as many of your Taekwondo friends as possible.
 I would like to propose that we all meet at the Clarion Hotel, Cork City,  on the anniversary of General Choi Hong Hi's death, 15th June 2014. 
I would love to hear from you. Perhaps some good can come from the Cork Taekwondo Funeral Experience after all.
Wishing you all well, Frank Murphy August 2013.