Taekwondo Training with Goals and Passion
Since the day I first saw Bruce Lee flash across the screen, I was hooked on everything martial, particularly Taekwondo, as my passion for it developed and consumed my life. Now before I suggest that we all start running out to buy rash guards and the latest MMA must-haves, I am speaking from a personal perspective of passion forTaekwondo and other martial arts training and some of the rewards that lay beyond the fringe of physical mastery. Fortunate are we to be living in one of the most exciting times for martial artists. Today's popularity ensures it is becoming more and more easier for those of us totally addicted to adapt some cunning and "normal" disguise. Now I have nothing against those who practice for the recreational benefits of the arts, I was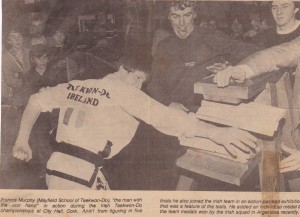 a fan for years, but the turning point for me was passion, and surrounding myself with fellow martial art junkies. Yes, passion, that is a key difference, to be passionate about health, growth, progress and learning.
The martial arts offer the ideal platform for passion, goal setting and creativity. First off is getting the physical game down. We must train everyday, even in some small way, and get to a point of daily maintenance. Allow me to share a secret. The majority of so called "talented" martial artists around today simply broke through some pain barriers, which only comes after hours and hours of training. They had the way of constant and never ending improvement, 'Kaizendo'. They were passionate. Ask yourself, Can I do every training session at maximum effort? can I push myself on some drill or technique that I am weak on? Surround yourself with, and interact with highly motivated individuals and you stand a better chance.
Once the physical game is under control, there comes the dawning of a real and true understanding of your potential and your connection to everything else. Passionate, hard, tough training, training that takes you as far as you can possibly go to physically, will lead towards a level of awareness, that is reserved for the select few and help you gain clarity on an unprecedented scale.
Adapting for our future training needs, questions we need to ask ourselves?
We know the Martial Arts are one of the best systems for goal setting. We fix on a date and train towards a future test and we adapt as we fine tune and clarify direction. We know also that our world is changing and becoming more unpredictable and so we must adapt, and be ready to change, and change often, if we are to survive the long haul. To train intelligently in a way that suits our changing times, our current age, our body type, our height, and to carefully plan our next, five, ten and twenty years is worthwhile. Here is a question, hopefully one that will cause you some element of discomfort.
Do you have short, intermediate and long term goals, for your physical and mental development written down; are they laminated on your fridge? Can you see these goals everyday?
OK, OK, instead maybe, ask yourself this one question.
If you do not have any goals, either written down or in your head, or stuck on your fridge, you must, I mean you have got to ask yourself the next question. Am I really passionate about achieving something that I value, something really worthwhile in the future? Like, do I really want these goals strongly enough? The minute I feel a loss of direction or any complacency, I have to get up off my backside and head towards somewhere uncomfortable, ok, maybe not as fast as I did a few years ago, but I am definitely focused on growth, and I want to be in the company of folks who are passionate first and foremost about training and also about life. Look folks, trust me and remember this, when you really have passion, you really won't feel the pain.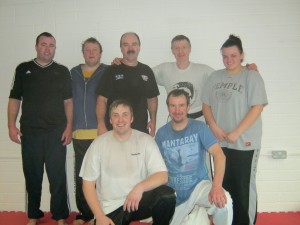 I am privileged to be a martial artist who loves working out, to have my health, to have family and friends encourage me and offer support. My training spans from publicised seminars to the "tap around" with a few of my (older) mates, I love it all.
I have seen some of my own Black Belts train hard these last few weeks and they in turn are helping me to up my game on all fronts. I encourage them go to other systems and seminars to increase their passion for learning, as there is so much available out there today. Some of them are better managing their families, their work, their cars and the state of their finances  better than I do myself. I have a lot of room to improve in the areas of discipline, punctuality, consistency of practice and am still trying to ditch my addiction to judgement. I would ask though, that you be respectful of others and their styles and try to avoid the judgement trap. I never set out to be a leader, least of all a role model, and find it scary and a bit lonely sometimes.
At 56, the packaging called my body gets tired, and I want to be normal sometimes, but we know too much of what normal does. It limits our potential, we know we must invest in a little pain to get a bit of growth.
If you think you don't have passion, don't worry, there is some still available. It is in your next training session;  You must seek passion out. let me know how it you get on. If you are fortunate to have any role model, mentor, or somebody you truly believe in to tell you just the one time, that you have potential, it will change your life. Write one simple goal on the fridge tonight, or better still, somewhere private, as we do not want the ego to surface as this take some potential magic away. Go about your day with a private passion welling inside you. Start counting your blessings, vividly, all of them one by one, quietly to yourself, every day, every night, I do, and they grow, just like passion. It's a promise.
If you like this let your passion spread to others…….
With Respect
Frank Murphy