Remembering General Choi Hong Hi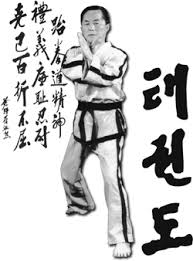 As the sun sets on this day June 15th, 2013, let us Taekwon-Do students and instructors around the world pause to reflect the man who died on this day eleven years ago in June 2002. The founder of Taekwon-Do General Choi Hong Hi.
Because of his many sacrifices during his time, many millions of people worldwide have led better lives. Let us be grateful for that. I wrote this short poem  in his memory;
Remembering  General Choi 1918 – 2002
With cotton Dobuk, a ghost rides tonight
Across the Korean sky
To honour the Father of Taekwon-Do
General Choi Hong Hi
He passed through all our thoughts today
As we practised forms in time
As King Se Jong spells it out
Your legacy left behind
And your Tenets help us, to live our lives
With Taekwon-Do's artistic joy
With gratitude for all you've done
From every man, woman, girl and boy
For four score years and three years more
Your life was on the line
Your mind was crucified 100 times
When, like kids, we acted spoiled
We reflect around the Kimchi meal
Of a Father and Soldier died
We raise a glass in final toast
We miss you General Choi.
By Frank Murphy
15th June 2013.