Pushing Through Barriers in Taekwondo Training
Strong reasons to keep up training, over many years, takes an above average mindset. Black Belt and beyond is a plateaux reserved for those of us who value a fit, strong body and an open mind on what is possible with further advanced training. The uniform of  a belt, jacket and pants, holds a unique spot for most of us who feel, our Gi or Dobuk has travelled on our martial arts journey as a faithful companion.
OK, so we all signed up for the long haul, especially most of you folks who subscribe to this Newsletter all know by now mental training techniques are unique to all martial arts training as part of our support system particularly when you're injured, or forced to take a break for whatever small challenge that may arise in your life.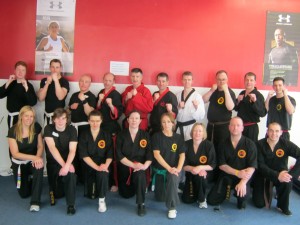 Recently out of the blue, the universe delivered one such beauty of a challenge to yours truly. In the normal setting of a serious training session we have discomfort, we push through pain, we get thirsty, and when sparring we even get a bit frightened, and a take few knocks into the bargain. But hey! We love it! We have been training like this for years.
I thought I was pretty safe from colds and flu, these silent ninjas stalking my happiness. I rarely get a illness, and have used this as bragging rights to showcase my immune system. This changed a few weeks ago on Thursday the 19th of April. I was due to teach two classes that evening. I didn't feel 100% but when you have been teaching for nearly 40 years you develop a kind of aloofness to common colds etc.  But tonight, I couldn't carry on. My wife Catarina stepped into the breach and I was proud of her, as she made short work of the hour's class. I went through the motions of loading the car and carried on sending as many positive messages to my head in an effort to restore my now out of sync immune system. The next morning of the 20th meant that I had a flight to Liverpool to conduct a seminar on the Saturday. This I hoped, slight bit of pressure, would rally me.
I stayed in bed until late afternoon, trying to rest as much as possible, then with my best Oscar acting, I managed to bluff my anxious wife, packed passport and kit and drove to the airport. Once parked up and through security I headed for the departure lounge so to maximize out the wait and rest as much as possible. Once on the plane I was asleep before the stewardess starting the safety announcements. Just after 6pm, that evening I landed in John Lennon airport inLiverpool, the Ryan Air arrival trumpet sending mild shock waves through my now shivering body. I followed the other passengers through to arrivals, went to the toilet and tookan inventory of my condition. Looking into the mirror, a thousand, "Never give up Sirs" played games with my shattered emotional state. I thought of every strong minded martial artist I know, to see what they would do under such conditions.
One immediately sprang to mind, self-defence expert Mark Lee. Only a few days previously, I had asked him if he ever had to teach a seminar with some serious physical liability. He told me of a recent tour of Ireland where he had his nose badly smashed open by accident in the very first leg of his tour. He managed to carry on, using a combination of meditation and mind control techniques he had learned from his military training in the states, to overcome this pain and push through to completion.
However I felt terrible. I was by now dangerously flirting with my health, the risk increasing by the minute, all defensive strategies I had left were ebbing away fast and my strength just deserted me. I grabbed my shoulder bag and headed to the arrivals lounge to be greeted by Master Steve Sharkey and one of his top Black belts, Mr. Roy Rowlands.
The warm strong handshakes, tookme by surprise. Mr. Rowlands grabbed my bag, effortlessly off my shoulder and greeted me with, " Great to see you Sir, you're looking great…" to which all I could do was smile benevolently, my smugness remaining just intact until my final decision on my failing health could be made. Lifted by the warm welcome, they noticed nothing amiss apart from a slight limp on my right side. Like an opportunistic film director I left this scene roll on a bit, a mix of pride, stubbornness, and downright reluctance took hold inside me. Ego can surface even in dire circumstances and we pay a huge price for our chosen social mask. "We have a great seminar planned tomorrow night Sir. We have Master Richard Saunders  and some of his lads are coming as well and some guys coming all the way up from Kent. Your going to love it Sir"…Once inside the car I had until 2 pm the next day, to regain my composure and so decided to dig deep, Mark Lee's commanding  face flashed in my minds eye and I felt him urge me on. Saturday morning brought me a lucky break. The venue, The Oval Center was flooded so we had to reconvene to another hall which was smaller and suited my now failing voice better. At 2 pm when I had got into my uniform I felt that bit better.  If you are lucky enough to value the power within your martial arts uniform, it has for me a unique powerful feeling, which I exploited fully. To get a feel for the seminar participants I asked Master Sharkey if I could see some close range techniques that they were currently doing as I had planned different sparring ranges as my main topic.
Roy Rowlands together with another of Master Sharkey's students, Mr Steve Saville, stepped up and didn't disappoint. They went through Thai Boxing,  Panantukan,  some Jun Fan and the "Shark Tank" . A flowing MMA  drill that  takes it's name from the man himself. With 15 years of Muay Thai behind him Steve Saville can punch and kick, especially with his right leg. Honed to perfection no matter the distance, shin, instep or both down to perfection. They both could vertical grapple, take down, throw, base out, pin and escape with very sound and practical flowing drills. They could box and spar from most distances. I was impressed and was reminded once again why I reference any bookI have ever written to their instructor, Master Steve  Sharkey.
The seminar went on to be a success. I did not do even partner work, instead, keeping the drills linked towards safe, progressive sparring. using  appropriate  striking tools to various distances and body dynamics. Despite my state of health, my mind and emotional attachment to my faithful Dobuk ( Korean word for uniform)  kept me going. So even though it is not recommended to train under any type of  sickness, I just wanted to give you this extreme example of how it is vital that you find your own emotional reasons to add support to your training to keep going. In fact can you imagine if you spent more time studying mind exercises to push on towards greater goals in our everyday training.
5 Responses to Pushing Through Barriers in Taekwondo Training