Children's Taekwondo Classes – Some Important Ideas
For those of us that have run children's classes long term, we may have seen a drop in the age 7 – 11 group and teenagers recruitment over time and are quick to blame 'competition' (what many instructors consider other martial arts clubs in the vicinity) or 'recession' (people simply have no money!).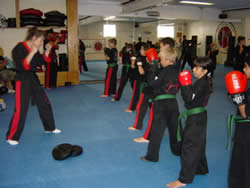 So what's going on and what are we really up against?
First we need to take a look at the concept of self-efficacy for a child. The definition below indicates that several facets to the equation.
SELF EFFICACY FOR A CHILD =     1. The ability to overcome barriers, e.g. such                                                                                 as a lot of homework.
2. The ability to handle competing activities,                                                                               e.g. Nintendo DS/Wii and other games, TV                                                                               etc.
3. The Child has enough confidence to ask for                                                                              support (the child will ask the parent to do a                                                                            certain activity).
A child needs perceived self-efficacy to join any activity. They need time, support and belief and there are many factors that need to be taken into account.
This concept of self-efficacy should be strongly taken into consideration from the design of the advertising, the white belt (beginner's) curriculum, belt testing, timetable, to even location of the school when recruiting individuals into an activity like martial arts.
Advertising: People need to believe that they are capable of doing the activity, particularly in the case of youth and adults. Thus, whatever type of advertising you do, the picture in the advertising needs to be believable (not just one of an Olympic athlete performing an impossible kick), in order to motivate an individual to pick up the phone and make an enquiry. With regards to childrens' advertising, the best selling points are the benefits every parent would like to see their child experience.
Curriculum: Most children and adults have a fear that they will end up in a class that they can't cope with because it is full of already experienced individuals. This barrier can be broken down by offering Taekwondo classes that are specific for beginners. The syllabus needs to be simple, yet effective so that the beginner feels continuous success, thus allowing maximum chances for developing a habit of regular activity.
Teaching methods/style: 'Perceptions of competence are as important as competence' (Corbin 2002). As professionals, many of us have a tendency to put an overemphasis on the child's level of competence and technical ability too soon. Martial arts instructors in particular have a tendency to over correct, a result of the 'handed down' coaching techniques from traditional Taekwondo teaching. Competence should be a goal but perhaps it is more essential to build a beginner's perception of confidence first before their actual physical competence. By having a less demanding Taekwondo syllabus at the beginner's stage of training, the chances of a child or even adult having a high level of perceived physical competence is greater.
Research also indicates that there are 'Some physically competent people who lack positive perceptions of competence (physical self-esteem)' Corbin (2002). Therefore the initial goal of any instructor should be to build confidence and self-esteem before concerning themselves with technical ability. Many authors indicate that perceived competence has an important influence on motivation. This positive physical self-esteem is more likely to result in engaging in the martial arts long-term.
Education: Many instructors embark on teaching children without much education in child psychology and development. A deeper understanding in this area can result in a complete change in how to manage and teach children's classes. For example, understanding how the child perceives competence in physical activity is important. Research states that children perceive competence in two ways: either as 'ego/performance' which is about performing better than others or as 'Task/Mastery' self-referenced performance, which is about personal self improvement rather than comparisons with others. For most children, task rather than ego goal orientation is more important in evaluations of competence, ability and effort. Taekwondo instructors that over-emphasise competition, particularly at the beginner stage of training may find themselves with large levels of drop-out as ego orientated individuals will cause many students to leave. Care must be taken on educating children to focus on self-improvement rather than social comparison and competition.
Belt testing: Many researchers state that youths will continue to be motivated if they go through 'a series of successful experiences'. This could be the key to retention in both children and adults. By using the method of continuous assessment via a series of mini tests, which can be physically marked and identified by placing small pieces of tape on the belt,  this allows the individual to experience frequent experiences of progress and success.
It is clear that enhancing children's and adolescents perceived competence is very important as well as helping them overcome day to day barriers in order to engage in regular martial arts activity.
Environment: From experience, some of the main barriers to joining the martial arts academy in the UK in the past were related to timetables and venue. It seems that both adults and children have less and less time in their lives, one of the most common reasons for not being active. This may explain the reduction of children coming through the academy door as it comprises of a single venue, in the middle of the town centre, which is slightly awkward to park in. The timetable for the children's classes may be difficult to get to when taking into account the location. Thus in order to engage in an activity, people need to find a location that is conveniently close, easy to get to and with a suitable time-table. In view of this it seems more feasible to have a series of small clubs, in different locations in the same town. This may be more convenient for parents.
In conclusion, the factors that affect whether or not a child decides to join a martial arts club are far more complex than blaming the 'club next door' and those of you who have managed to pack a school full of children deserve a pat on the back.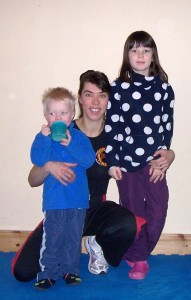 Catarina Murphy has practised Taekwondo since 1988. A mother of two children, a 3rd Degree Black Belt, she has pioneered a number of industry related courses and workshops related to 'Safe Martial Arts Tuition Practices' and 'Teaching Children'. She has been a  contributor to Black Belt UK and MAI magazines in the past and is qualified with a Master's Degree in Physical Education from Loughborough University. 
References:
Sallis, J.F.(1994) Determinants of Physical activity behaviour in children. Health & Fitness through physical education (pp.31-43). Champaign,IL: Human Kinetics.
Corbin, C.B. (2002) Physical Activity for Everyone: What Every Physical Educator Should Know about Promoting Life Long Physical activity. Journal of Teaching Physical Education, 21, pp.128-144. Human Kinetics Publishers, INC.
2 Responses to Children's Taekwondo Classes – Some Important Ideas