An Original Taekwondo Pioneer – Master Ted Hopwood
Frank Murphy on one of the original ITF Taekwondo Pioneers in the UK –  Master Ted Hopwod 8th Dan.
For most of us, the results of some hard training, while for the most part are beneficial there are times when some injury or stiff joints, or general physical and mental fatigue may give some cause to complain. Those of us fortunate enough to enjoy the rank of Black Belt and a certain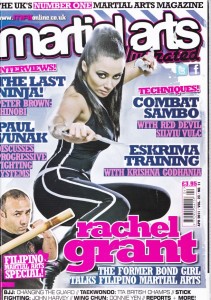 amount of expertise will also be aware that such complaining is futile any these training setbacks serve to forge a stronger character. For Oxford's Master Ted Hopwood, an 8th degree Taekwondo black belt such obstacles pale into insignificance as he faces the daily challenge of dealing with multiple sclerosis. Now, although confined to a wheelchair, this crippling disease has failed to diminish his passion, interest and appreciation of Taekwondo. Coupled with his steely determination to continue the art, which has been an important part of his life and made his Taekwondo journey an interesting one.
That journey began in 1968, just one year after Korean Master Ki Ha Rhee brought Taekwondo to theUK. As you may well imagine, back then, times contrasted a lot differently to what they are now.  Beginning under the guidance of a Mr John Crust, in a newly opened Taekwondo Club inOxfordUniversity, classes were an arduous two hours long, where spartan equipment and basic training facilities were the norm and greeted those first pioneering Taekwondo students three times a week.
Incidentally Master Rhee, although justly credited with bringing and popularizing ITF Style Taekwondo to theUKin the late sixties, was preceded by another Korean, Master Freddie Lim who taught some of the first Taekwondo classes in the Oxford area. Mr John Crust was one of Freddies Lims students and was Ted Hopwood's first instructor at Oxford Polytechnic. Hailing from a military back round, John Crust became a big influence on the young Hopwood instilling in him a solid foundation forged in old school training methods that are rarely observed in today's ultra safe and litigatious society.
Not content with the three nights at the Oxford Polytechnic, Mr Hopwood drove to Coventry twice week to train under Master Rhee Ki Ha, who was then beginning to put an exhibition team together in order to Promote Taekwondo throughout the UK. GeographicallyCoventrywas seen as central to expansion operations by Master Rhee Ki Ha and from here many exhibitions were planned in surrounding cities and towns.
Master Hopwood remembers "Huge posters were used back then to promote Taekwondo, and most featured Master Rhee Ki Ha doing one of his flying techniques. I still have one which promoted opening a club in Northampton's Town Hall on Monday August 12th 1974. Demonstrations were performed by Master Rhee, Murray Walker, Bob Howe, William McCracken, Clive Neale, Robert Ryan and myself."
One of the highlights of his career was when he and Bert Callendar of Wales were the only two UKTA Black Belts selected to represent the UK at the first World ITF World championships which was held in Montreal Canada in October 1974. He recalls "Just the two of us and it was fantastic. I came away with a bronze medal for the flying High overhead kick. Many masters were in attendance and Hee Il Cho gave a magnificent demonstration. We also met with General Choi and Nam Tae Hi the founders of Taekwondo and were invited by other Korean Masters to give demonstrations in Boston and New York."
A keen traveller, Ted Hopwood's forte for many years has been as a senior Black Belt examiner and at various times in his 42 year career, has served with all the top Taekwondo associations in Great Britain. Beginning in 1983 he spent ten years as an examiner for the TAGB where he promoted hundreds of Taekwondo members to various ranks in the Bristol and South Wales area. He changed association in 1993, when he was the main Black Belt Examiner for the GTI. He has presided over the testing and promotion down through the years, providing a historic line of authenticity and credibility to many senior Black Belts including Kim Stones, George Cockburn, Clive Harrison and the former three times world Taekwondo Sparring Champion Tony Sewell.
In March of 2011 his travels take him to Cork in southern Ireland to conduct a Taekwondo Black Belt Grading which will be held in the Clarion Hotel in the city. He is to be the guest of honour at a special Cork Black Belt Instructors Taekwondo Reunion where the city will celebrate thirty seven years of Taekwondo in the city.