Little Ninjas (Ages 6 to 7)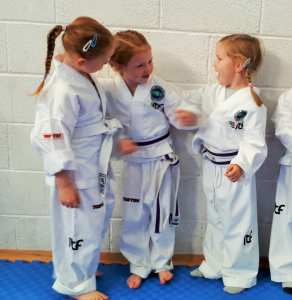 Our little Ninjas course is a preparatory Taekwondo  course for our younger members (ages 6 – 7).
It is designed to teach the building blocks of Taekwondo, without any over complicated sequences for this age group.
It focuses on fun and body strengthening in the form of games and exercises which motivate this age group.
There are plenty of mat chats which emphasize safety and character development so that your child grows in confidence and learns some valuable lessons about discipline, respect, health and safety in all areas.
There is a belt system to mark their progression and is based on age and class attendance.
The belt system generally is as follows: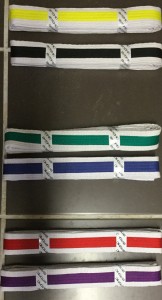 Ages 6+ are awarded Purple & Red stripe belt
Ages 6- 7 are awarded Blue and Green stripe belt
Ages 7+ are awarded Black Stripe belt
The first official Taekwondo belt which is certified by the ITA  is the Yellow stripe (Yellow Tag/ 9th Kup)