Taekwondo Pledges to Defend the Weak, or Does It?
Ever stood waiting in a queue in a public place with your partner, when a few intimidating thugs barge and bully their way to the front. What's worse is when some brave bloke takes it upon himself to make a stand, the thugs proceed to lay into him. You rage and pray other males in the queue jump in to help him, but no one moves.
You feel the adrenal rise and you prepare to launch yourself into action, but your wife stops you and begs you not to get involved, with "You know what these sort of people are like… That "You're too old for this now"… and "Think of your reputation…the kids…the consequences". You stand courageous but your indecision, confusion and over-riding fear keeps you rooted to the tarmac, and so you yield, because it's way easier.
For a few terrifying moments the evening belongs to the thugs as they freely hammer the living daylights out of the brave protester and it's quickly over. Bouncers are called, the thugs flee and the victim consoled. Gardai arrive and start to clean up the messy affair, and normal Saturday night banter continues.
Next day the incident plays on your mind. People ask what's wrong but you pretend everything's fine. You're polite and kind and helpful on the outside, but at home you're cranky with your kids and short with you're wife. A few nights later you stand in your dobuk and you start off with the Taekwondo Oath before class.
You get to the part where it say's… "I will put the art into use only for self defence and defence of the weak" and you feel ashamed that you sat on the fence of fear.  Ever happen to you folks?
There is always someone getting a hiding somewhere, be it physical or psychological.
Take Scottish Black Belt Andrew Taggart. He is now famous, because someone posted his worst performance on-line and gave him an unmerciful psychological hiding. And worse still were those who lavished in his downfall.
The gutter press loves bad news, and they easily sell this to the side of us where our ego dominates, because separation and isolation from each other is their goal. See how they can take one embarrassing fraction of someone's life, post it up and let people not so different from those bullish thugs I described, kick him when he's down.
The fact is, this clip is a total distortion of who Andrew Taggart really is.
I must applaude the young girl Neve Stewart, one of his students for defending him. As the online thugs waded him with their keyboards instead of their boots, Neve was in there. She stepped up saying how Andrew Taggart has been a key positive influence in boosting her confidence since she became one of his students. Proving far braver than myself, and those keyboard thugs, she was quick to jump in when the call came to defend him. No hesitation, not for a second, from this female Braveheart.
Andrew Taggart has grown immeasurably these past few hours more than most of us. He experienced an onslaught few of us could handle. I envy him in his position because I thought that I held the title of the worst Taekwondo exhibition ever done in public. If the on-line reporter cares to add me to the worst Taekwondo exhibition competition, I am surely a candidate for this title. My application goes like this: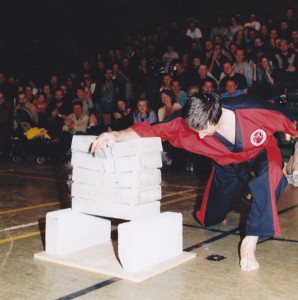 Here is a photo of Frank Murphy failing to break 5 breeze blocks in front of a capacity crowd at the Clash of The Titans in 2001. He barely broke three, the man is a joke…and calls himself a Master…
Honest to God – What a carry-on.
You would have a complete DVD Box-Set if you captured all my board breaking mishaps, from missed attempts of flying kicks, to fragments of tiles flying into the air and cutting into the pre-facebook audience, blood everywhere! Harry Hill, eat your heart out!
Master Clive Harrison stood out with his quote, "This sometimes happens and you just want to go home". He is brave to admit it because he knows this happens to us all. We all hurt, and we all fail, have cringe moments, and we get embarrassed. Thank God the majority of us have been spared so far from the viral hammering that Andrew Taggart got today over the internet. It really was cyber-bullying on a mass scale.
We all stand in our own queue of fear at times in our life and the weight of regret and remorse dawns later. What has come out of all this is the overwhelming positive support the Fife Taekwondo Group have shown Andrew. What an example they all are to those who sit safely on the fence, and give lip service to lovely creeds, but fail to show support when one of us fails and stumbles on the way. They know Andrew Taggart is a lot more than someone who fails to break a board, their response proves it in spades.
I would ask through the medium of this blog of any black belt out there support him now, when he is down. Sure this was embarrassing, but it could happen, and probably will happen to us all some time. Has any one of you reading this blog ever failed to break a board and is willing to admit it???
Andrew Taggart we salute you Sir, so stand tall man, because we have all messed up in this life.
Frank Murphy
23 Responses to Taekwondo Pledges to Defend the Weak, or Does It?