True Meaning of Taekwondo Black Belt
Not a weekend goes by without a flurry of comments, good, bad and ugly of people's experience of martial arts tournaments. Tonight we see this aftermath, as we eager   Facebookers, start posting photos, showing blurred kicks and punches smacking home and of students and instructors standing proudly with trophies and medals, the spoils of months of hard work and dedication, eventually getting that due recognition. Before the sun settles on this Monday, please allow me to share a lesson I learned over the weekend.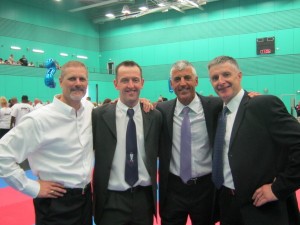 Surely, most of us agree, that a well organised event goes far beyond the smiling faces on the winner's podium. Healthy competition, honest sportsmanship and mutual respect of your opponent offers the perfect conditions where we can meet up with like –minded individuals and take home the best "Trophy" of all,…. that of lasting and valued friendships, that's earned on and off the mats.
Independent Taekwondo Schools Scottish International Festival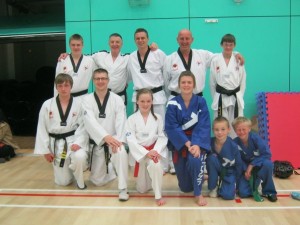 The Scottish International Festival hosted by the multi-talented Ross Fisher did just this. With my training buddy John Canty 6th Dan, we saw teams from America, England and the home side Scotland take part in three days of action, that even included a Scottish Ceilidh. Hosted by Independent Taekwon-Do Schools and sponsored by Verve, it went beyond my expectations. Predictably Facebookers from these countries have been busy all through today, so jumping on the bandwagon, I just wanted to share my experience of a lesson I got on Saturday.
In my competition days, many times I returned home, empty-handed, cursing the judges, for what I thought were harsh and unfair decisions.
Anyone else care to admit this? You work and re-work the pattern, checking is the technique right ?  You do countless run-throughs of your favourite sparring combinations while nursing headaches and injuries and made sacrifices with diet, family and friends in order to enhance your performance?
Days accelerate as the date draws nearer, our bellies and bladders stressed, and then, and then yes it comes, the big day arrives… all of this massive effort of months and months is all dependant on one wrong wave of a flag by a sleepy judge or an incompetent referee.
Thankfully at this Festival, the experienced Verve and ITS Team worked hard to ensure this experience was limited, but anything can happen at such a big event. On Saturday morning I was judging men's Black Belt patterns. First up was American, George Burchfield. He performed the pattern Moon Moo extremely well (in my opinion) and I give him a mark of 9.5. Sure he did make a mistake in that he hesitated with the very last move. But he was, first up, and that's not easy. There was a radio going off at the side which was turned off, after he was done, so the next guy could concentrate better.
As judges, I felt we were just getting focused, we did not advise him that he would be stepping off the matted area as the pattern's diagram went away from us. In other words he stepped too close to begin with. Again, being first up gives you no time to allow for these finer adjustments. He did step off the mats, but he never once lost composure. When he finished, I thought that he would at least place somewhere and whoever followed after him would certainly have their work cut out.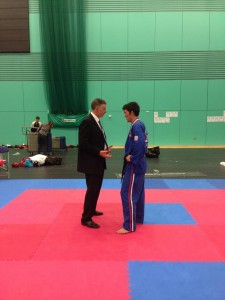 The rest of the competitors were also very good, if fact they each deserved their medals. However Moon Moo is one of those patterns we Taekwon-Do heads fantasize about in our dreams and his one deserved at least a place. But, alas, it was not to be. The results were given out, and he then congratulated his peers on their success. I was amazed how he was genuinely happy for them. I could not understand why he was not disappointed or at least fairly upset. When I was his age, I would have been fuming, and gone on to win the destruction!!
A Tough Lesson to Learn
Here is the tough lesson I learned from him. At 6pm that evening the same George Burchfield had reached the final of the men's sparring. Whether he won or not means nothing, as I am writing this tonight and didn't have time to check the results today but Hey, get what follows… Immediately after the sparring contest I walked up to him, explained that I had seen his reaction in the morning to the results of the pattern contest, and was duly impressed by his humbleness, and would he mind if he could do Moon Moo, again for me as I wanted to see it again for myself.
Then, cool as a breeze, without hesitation, and still wilting from his battle with that tall tough Scottish lad Craig Appleton, he walks across to one of the last remaining mats spaces before they are cleared away and does Moon Moo again. The footage from my camera is not great, but you can see his standard and judge for yourself. Remember this is when they are pulling up the mats and going home, everyone is tired. Somehow he digs deep and just look at him go. My point is for you to better still, judge his reaction, on how he was "Tough" in accepting the result earlier in the day, especially to a pattern of this standard. He acted in a mature manner that belies his 21 years. From him I learned that true inner confidence comes not from trying to accumulate allies, or the opinions of others but from placing your energy into producing your own best work.
The Real Meaning of a Black Belt
The brief conversation I had with him showed that his humility and strong character is not contingent on anything external to himself. He feels a winner inside anyway, hence his calm reaction. At 58, there is still lessons for me to learn, and I never thought a kid of 21 could teach me how to side-step an ego trap that I must have fallen into many times as a younger man. Thank you, George Burchfield.
By the way folks whether he becomes famous or not, it wouldn't matter a jot to him, because he will carry on to continue with his best work and efforts anyway, independent and regardless of the good or bad opinions from of the rest of us. This is surely as close to getting the maximum from Taekwon-Do and martial arts training as we can hope for. This my friends, is the real meaning of a Black Belt.
Frank Murphy….On Monday night after training 29th July 2013.
2 Responses to True Meaning of Taekwondo Black Belt